Design History
I became interested in golf course design at the age of 15, and soon after constructed my first hole on my parents' farm in New Zealand. A passion for the art of golf course design soon arose and I pursued the academic and technical skills required to advance my artistic skills at tertiary level in New Zealand and the United States.
A professional career took hold in the 1990s and I have been fortunate to work alongside Peter Thomson in Australia and Denis Griffiths in the USA, Sam Torrance in Scotland and Greg Turner in New Zealand. It is easy to hold dear my role as the on-site architect for two golf courses in St Andrews as a career highlight, but I am very proud of all the work we have completed such as the new Coronet Nine at Millbrook Golf Resort in New Zealand, the redesign of the Championship Course at Royal Wellington Golf Club and the new Colt Course at Close House in England which within 4 years of opening has been ranked as a Top 100 Course in the UK and Ireland and where Lee Westwood is attached as the touring professional.
Having spent much time on the construction of golf courses, this phase is where I like to spend my time to ensure the golf courses are built as envisioned. It is important to me to see a project through from the initial conception and master planning stage, to pricing, tendering, construction and launch. Both in terms of landscape and client type, I enjoy the diversity of different design scopes. From the renovation of the Oreti Sands, the most-southern links in the world, to the parkland course at Close House, and from the resort courses of Millbrook, to the private members club like Royal Wellington, each project is an exciting challenge.
I started my company in 2004 with the keen focus of producing fun, interesting and attractive golf courses on-time and on budget. It is also important to me that my courses are in line with the best environmental standards. We have an opportunity and obligation to be stewards of the environment, and our golf courses can be home to valuable wildlife and habitat areas. Designed properly, these areas become assets to the golf course and powerful opportunities for golfers to connect with the outdoors.
No golf courses are built by one person, and I see myself as a team player and with a focus on producing courses that will best meet the business and strategic needs of my clients. With a multi-disciplined approach, we can work with an existing team or assemble a new team to take a client through the master planning stages that results in a popular course that will contribute strongly to the success of a golf business.
Looking back, it has been 25 years since I produced a par three for my own fun. Now based in Edinburgh, Scotland, my work takes me around the world, but designing golf holes that are fun to play is still central to my design philosophy.  Why? It's simple. If golfers have fun playing a golf course they will return. And for a golf course owner, the saying that most often holds true is, 'the best business is repeat business'. Today we are here to help your golf business. Please make contact if you think we share your golfing vision for the future.
Project Chronology

Year
Client
Project
Location
Status
2004
Close House- Colt Course
New 18 hole Championship Golf Course
UK
Opened May, 2011
2006
Russley Golf Club
New 18th Green
NZ
Opened Dec, 2006
2007
Oreti Sands
Course Redesign
NZ
 Opened March, 2009
2007
Millbrook Golf Resort
13 New Holes, 14 hole renovation, New range
NZ
Opened Feb, 2010
2007
Private Golf Facility
Private 4 hole Golf facility
NZ
Opened Dec, 2010
2008
Arrowtown
New 18th Green
NZ
Completed 2009
2008
Harewood Golf Club
18 hole Re-design
NZ
Opened Feb 2012
2009
Royal Wellington Golf Club
27 Hole Re-design
NZ
Officially Opened Feb 2014
2009
Menaggio & Cadenabbia
Course Re-design
Italy
In Planning
2010
Kersewell
New 18 Holes, Par 3 Course + range
UK
In Planning
2011
Russley Golf Club
Course Re-design
NZ
Completed
2012
Saint Maurice de Lions
New 9 Hole Design
France
In Planning
2012
Close House
Renovation of 'Filly Course'.
UK
Opened July 2013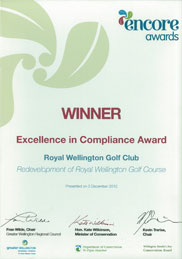 Winner
Excellence in Compliance Award
Royal Wellington Golf Club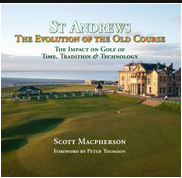 St Andrews
The Evolution of the Old Course
by Scott Macpherson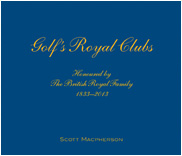 Golf's Royal Clubs
by Scott Macpherson


"The course looks absolutely stunning and every single golfer, without exception, has said how wonderful it is and that the views are exceptional. Most of that is down to Scott's own design, imagination and flair and I am very grateful for all the effort he put into making the course so special."
Graham Wylie, Owner of Close House Hotel and Golf. England, UK