Associates
It has always been one of the great pleasures of this vocation to be able to put together teams of passionate individuals to produce high quality golf course designs. I have been blessed to partner with some highly talented people in different parts of the world who have contributed considerably to the success of my work. These people are friends, colleagues and partners.
Greg Turner

Greg Turner is based in Queenstown, New Zealand and has 20 years playing experience on the golf tours of the world with 13 victories on the European tour. Scott and Greg have worked on many projects in New Zealand, including redesigning the Championship course at Royal Wellington Golf Club.
Sandy Lyle

Inducted into the Hall of Fame in May 2012, Sandy is well known around the world for his golfing exploits – perhaps most notably the (British) Open Championship in 1985 and being the first European to win the Masters Tournament at Augusta in 1988. Sandy has been involved with the design of 3 golf courses, but will partner Scott for the first time to design his inaugural golf course in the UK at Kersewell Resort.
Denis Griffiths
Denis has been a golf course architect since 1970. Having worked with Gary player and many other stars, Denis became a full partner with Ron Kirby in 1980, before establishing his own company in 1987. Based in Atlanta, Georgia, USA, Denis has a unique set of skills as the owner of a golf course construction company, an owner of golf courses, and being a golf course designer himself. Denis is a past President of the American Society of Golf Course Architects.
Glenn Boorman
Based in Georgia, USA, Glenn is a golf course architect of considerable experience, and member of the American Society of Golf Course Architects. With specialist skills in golf course construction management and pricing, Glenn is a valuable member of the team. Glenn also assisted Scott with his book on the royal golf clubs.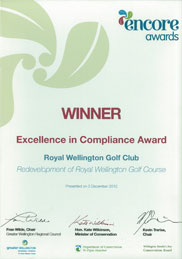 Winner
Excellence in Compliance Award
Royal Wellington Golf Club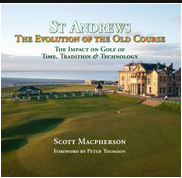 St Andrews
The Evolution of the Old Course
by Scott Macpherson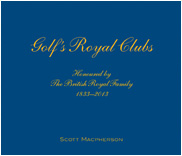 Golf's Royal Clubs
by Scott Macpherson


"Scott is a very good course designer and it's interesting to go around a course and see what he sees. I have my own ideas about courses and the way they should look, but listening to somebody like Scott, who has a lot of experience, makes you appreciate how much more there is to take into account when you are designing one."
Lee Westwood, CH Magazine, 2014.