Design Philosophy
Designing a golf course today needs to be as fresh as ever, but orientated to the economics of operations, and enjoyment of those supporting the game.
When it comes to golf course design I:
Ensure each hole is interesting, fun and attractive for all golfers
Lay out the course to provide the most pleasing playing, walking and visual experience
Create variety across the course
Embrace and enhance the natural beauty of the land
Plan for sustainability and safety, and the business needs of the client
Golf is a game to be enjoyed. To be fully enjoyed the course must provide a zest for those who play – a jousting between the course and the player. It's a two-way battle for supremacy. A course that provides dramatic drives across unfathomable places of peril, the opportunity for redemption from floral penitentiary's, interest peaking pitches from undulating lies to rolling greens, and putting greens that reward those with the artful skill to negotiate slopes is an engaging golf course full of excitement.
I want our golf courses to be expressive places where players can be rewarded for their industry, bravery and resilience. They are places where the wise win over the wistful and the short but skillful prevail over the long hitting wild. Occasionally a good courses will ask a players' ego to write a cheque their body can't cash, but their will always be another route to play, and the thrill is in the suspense between the commencement of the decision and the knowledge of the result. And while their will always be an important element of luck in golf, our courses reward the skilful more than the lucky.
If we apply ourselves to the art of designing strategic courses of beauty and substance, golfers will be enriched by the playing experience and want to return. Any golf course that entices golfers back to play is certain to be a success for their owners.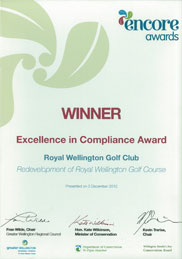 Winner
Excellence in Compliance Award
Royal Wellington Golf Club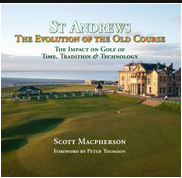 St Andrews
The Evolution of the Old Course
by Scott Macpherson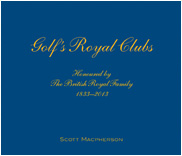 Golf's Royal Clubs
by Scott Macpherson


"During both the design and construction phases their can-do attitude to problem solving was refreshing".
Ben O'Malley, Millbrook Country Club, NZ