About Scott
Name; Scott Macpherson
Born; New Zealand, 1971.
Qualifications; Bachelor in Horticulture with Honours in Technology, 1993.
Studied at:
Massey University, New Zealand
University of California, Davis, USA
With a range in interests from history, music, sport, horticulture, wine and painting, Scott grew up on a small farm just north of Wellington in New Zealand. Golf found Scott at the age of 14 and soon he was playing junior golf for his local golf club called Paraparaumu Beach. It was this internationally well-known links that inspired Scott to a life in golf course design.
After a period working for five times Open Champion Peter Thomson in Melbourne, Australia, Scott moved to the UK and in 1998 and took up residence in St Andrews. For fours years he worked for American Denis Griffiths as the on-site architect for the two courses at St Andrews Bay, now known as 'Fairmont St Andrews'. When they were completed Scott spent 2 further years working back in Atlanta, USA for Denis. In 2004 Scott got married in Scotland and started his own design company. In 2007 Scott published first book. It is called "St Andrews, The Evolution of the Old Course." In 2014 he published his second book entitled 'Golf's Royal Clubs' – a book commissioned by The Royal and Ancient Golf Club of St Andrews for Her Majesty The Queen's Diamond Jubilee.
Scott is married, has two children and is based Edinburgh, Scotland.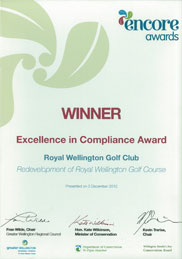 Winner
Excellence in Compliance Award
Royal Wellington Golf Club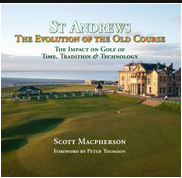 St Andrews
The Evolution of the Old Course
by Scott Macpherson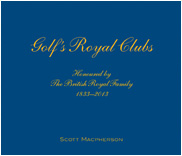 Golf's Royal Clubs
by Scott Macpherson


"RWGC set out to build the best club golf course in New Zealand and to be one that golfers from all around the world will travel to play. We are confident that ambition is being realized."
Peter Cutfield, Chairman, Royal Wellington Golf Club, NZ