Environmental Principles
There is an innate connection between the golf and the environment. The success of the game golf is connected to the playing conditions and the natural environment.  A golf course offers an excellent opportunity to preserve open space, provide money to improve an area, environment or ecosystem, and allow access to an amenity.
PRINCIPLE 1
WORK WITH THE LAND
Every site has its own unique features and forms. When I first visit a site I am immediately looking at the topography, sensing the slope of the land, determining the high and low areas, where the water will go and identifying the areas of natural beauty on the property. The outcome of this analysis will determine the type of design one must embark upon.
If the site has no natural virtues – perhaps it is an old mine, or a landfill – then the golf course design can be entire. All the contours of the property may be changed as the site is reshaped. This type of design is less common. More common is an adaptive form of design where design work adapts to the areas of the site that
Areas to consider;
Environmentally Sensitive Areas; These may include wetlands, protected wildlife habitat, fragile soil and vegetation areas such as sand dunes.
PRINCIPLE 2
IMPROVE  WATER QUALITY & REDUCE WATER RELIANCE
The enactment of this principle shall vary from site to site. In essence it is a mindset that says 'do everything you can to help ensure the quality of the water that leaves the property is better than that which comes onto it. It may mean;
The preservation or protection of wetlands, or
streams that pass through the site.
To improve/treat storm water runoff quality. This include dealing with storm water coming onto the site from across a property boundary, capturing water from hard surfaces to be treated and reused, and the redirection/capture of golf course storm water runoff to keep it out of onsite protected waterways. The reasons to capture this water may be to do with everything from sediment control, or water pollutants.
Wastewater can be reutilised. Where houses or hotels are part of the development, wastewater can be used to minimise the need to use ground or town water supplies.
Ensure any lakes are healthy (large enough to have cool, clean water free from algae
Reduce/minimise ground water useage.
PRINCIPLE 3
CREATE NEW HABITAT
When a golf course is designed, a component of the project is always the 'out-of-play' areas. These can vary dramatically in size and form from site to site. They may be made up of predominantly trees, grasslands or wetlands. Or in some of the more arid locations these areas could be sandy, arid deserts. More often they are a combination.
PRINCIPLE 4
IRRIGATION & TURFGRASS
Water is always a significant factor in the design of a golf course. Continuing developments in turfgrass breeding mean new cultivars are regularly becoming available that offer new solutions to the challenges of providing a high quality playing surface year round. Draught tolerant grasses are one such advance.
By understanding the environmental conditions such as evapotranspiration, rainfall, sunshine hours, soil type, etc, grass species and cultivars can be selected that require less water, and this can offer some courses significant benefits when it comes to designing their irrigation system. Also, some grasses have salt resistant qualities or and excel when irrigated from such things as reclaimed water.
It is important the turfgrass mixes for a courses are carefully selected as the result will have a significant bearing on the outcome of the golf course. And it might be added, that beyond the water benefits, turf-grass can be selected for characteristics such as a greater resistant to disease and wear, growth rates at certain temperatures, or even colour.
PRINCIPLE 5
EDUCATE THE USERS
Create Environmental Management Programs
Integrated Pest Management Programs
5 STEPS TO ENVIRONMENTAL STEWARDSHIP
Have an integrated master plan –  There can be a much higher level of success in improving the wildlife habitat, the waterways and environmentally sensitive areas by being involved at the conception of the development so there is an integrated and strategic master plan.
Plan golf courses on sites of low environmental importance, or on the areas of a site where the land is of a lower environmental value. These may be degraded sites, 'brownfield' sites (ie. Abandoned, idled or underused industrial and commercial facilities where expansion or redevelopment  is complicated by environmental contamination) or low value pastorial land.
Intellectually move to make golf courses that require less earth movements, less water, and lower pesticide and fertilizer inputs. The lower construction costs shall reduce the operating costs and using less inputs will benefit the operating costs of the course and the environment.
Make decisions based on the benefit they bring to the environment.
Assist clients and communities in creating environmental awareness and stewardship programmes that educate people about the importance of working with the environment.
AWARDS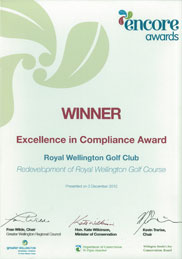 Winner
Excellence in Compliance Award
Royal Wellington Golf Club
PUBLICATIONS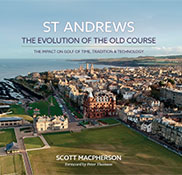 St Andrews
The Evolution of the Old Course
by Scott Macpherson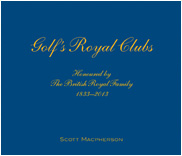 Golf's Royal Clubs
by Scott Macpherson

TESTIMONIALS
"The course looks absolutely stunning and every single golfer, without exception, has said how wonderful it is and that the views are exceptional. Most of that is down to Scott's own design, imagination and flair and I am very grateful for all the effort he put into making the course so special."
Graham Wylie, Owner of Close House Hotel and Golf. England, UK