Golf's Royal Clubs
Full Title; Golf's Royal Clubs Honoured by The British Royal Family 1833-2013
Brief Synopsis
There are 66 golf clubs around the world that have adopted the royal title from the British Royal Family. The first golf club to be conferred the title was the Royal Perth Golfing Society in 1833, followed by the Royal and Ancient Golf Club of St Andrews in 1834. In 2013, a German golf club now known as the Royal Homburger Golf Club became the most recent club to receive the honour. This new book is a celebration of this wonderful group of golf clubs and reflects on the connection between each club and the Royal Family, the history of the club and its golfing facilities. The book includes a wide array of photographs and a plans of each royal golf course. It features a leather cover, 486 pages, and a four-page double fold-out.
Some royal clubs included in the book are;
The Royal and Ancient Golf Club of St Andrews (the R&A)
Royal Calcutta (the oldest club outside the UK)
Royal Montreal (the oldest club outside in North America)
Royal Blackheath (a club with 400 years of history)
The Royal Melbourne Golf Club
Royal County Down
Royal Birkdale
Royal St Georges …. and many more…..
AWARDS WON:
1. Winner of the 'Best Author' at the International Network of Golf (ING) Media Awards. Award presented at  22nd Annual ceremony at the PGA Show in Orlando, FL, USA, January 2015.
2. Winner of the 2015 Murdoch Medal from the British Golf Collectors' Society.
3. Shortlisted for the Best Illustrated Book at the Cross British Sports Book Awards 2015.
The book was commissioned by the R&A to mark Her Majesty The Queen's Diamond Jubilee. Those interested in purchasing the book can order it through the R&A. Contact Catherine McGrik on +44 (0)1334 460153, email; catherinemcgirk@randa.org
It has been a great honour to be associated with this book.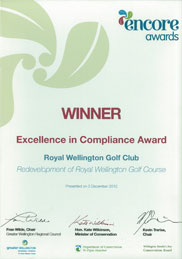 Winner
Excellence in Compliance Award
Royal Wellington Golf Club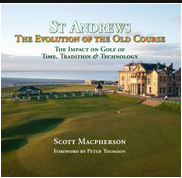 St Andrews
The Evolution of the Old Course
by Scott Macpherson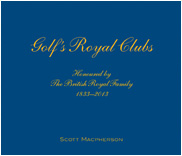 Golf's Royal Clubs
by Scott Macpherson


"The course looks absolutely stunning and every single golfer, without exception, has said how wonderful it is and that the views are exceptional. Most of that is down to Scott's own design, imagination and flair and I am very grateful for all the effort he put into making the course so special."
Graham Wylie, Owner of Close House Hotel and Golf. England, UK